Interested in engaging youth in positive climate action? First, understand our perspective.
Climate change is one of society's most pressing issues. Concerns rise as we see its effects worldwide and Canada is no exception. Environment and Climate Change Canada has indicated that people across Canada  are experiencing unprecedented extreme weather conditions as a result of climate change; including fluctuating seasonal weather, unusual heat waves, and widespread wildfires, especially in the boreal forest region.      
These ecological changes are now affecting our culture. They impose great risks on the  economy and demonstrate the need for structural changes across all systems. They also affect the state of our agricultural systems and food supply. It is imperative that we as a society know how to proceed with caution and decrease the risks to our way of life through educating ourselves about the problem. Moreover, as our future rests on the shoulders (and vision) of youth, it is imperative that they learn from past mistakes, assess possible risk factors, and evaluate possible solutions. Youth must be engaged in developing solutions, now.
Despite the imperative, there is a serious inconsistency in, and in some cases lack of, climate education received by students throughout Canada. Across provinces and territories, there are considerable differences with respect to how climate education/literacy is incorporated in the curriculum. Provinces like Ontario and Saskatchewan have integrated climate education into the science curriculum, whereas other areas are more limited in regards to their climate literacy. Furthermore, recent studies have concluded that current climate education is not effective with students as it provides them with outdated information and is unengaging. Though youth are ultimately the greatest benefactor in climate action, there is an information deficit that drives a wedge between climate change and the younger generation. When inundated with a plethora of scientific terms and jargon that we do not understand, our interest in this subject becomes limited.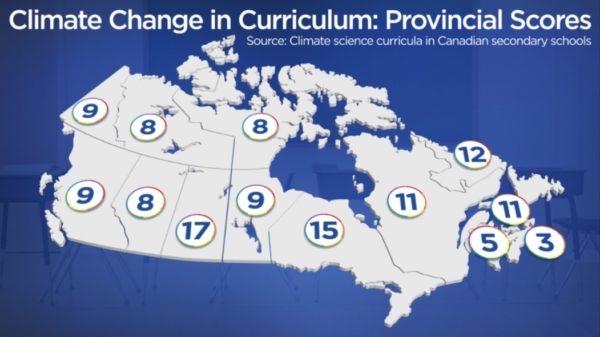 Educators need to be equipped with effective tools to teach about climate change in ways that are comprehensible by students. We do not need a deep and sophisticated understanding of climate change, rather we need to recognize the impact of human behaviour in the initiation of extreme weather, melting ice, flooding, rising sea levels, and all other consequences of excessive greenhouse gas emissions. We need to understand the reality of the situation.
With the right resources and support, youth will step up. With better climate literacy, we will be powerful forces to combat climate change. Many young people are already dedicated to projects that increase climate action. They are equipping themselves – and others – to tackle critical issues before we reach the point of no return.When surveyed by the UN, some 84% of youth agreed that they need more information about climate change. Among those youth, 89% stated that young people can absolutely make a difference mitigating climate change. These young people recognise the need and are pleading with their empowered, older counterparts to remove barriers to their engagement and action.
Teens need support and access to meaningful programming to help us advance climate action. The Government of Canada recently invested in climate change education initiatives through Environment and Climate Change Canada. This funding went to several organisations to engage youth in climate action.  Personally, I have been very involved with the Let's Talk Science's project, the Climate Action Lab and will be presenting results at the 2022 CSPC conference. If more young minds were informed of these activities, youth would take more action. 
Finally, amongst youth, there is no shortage of innovative and creative minds that are more than capable of ideating solutions to this critical global problem. With access to more diverse, current, and relevant opportunities to engage in climate action in and outside school, we will stand a better chance of tackling this existential threat.
The inclusion of youth in the conversation of climate change is more than necessary, it is imperative for developing a sustainable and intelligent climate culture. With a better understanding of one teen's perspective, the next step is to engage and support us in our journey to develop climate literacy and take action.